This report will provide a short overview of Starbucks strengths, weaknesses, opportunities and threats in form of a SWOT analysis. Starbucks' major strength appears to be its HR practices and the investment they make in employees. Happy employees create happy customers is Starbucks' maxim. Very clearly this report shows that it is essential for Starbucks to sustain and enhance their HR management practices to remain competitive.
The report will give an overview of company facts and history, while in the main part a SWOT analysis will be undertaken to close the report with recommendations regarding findings and challenges. To deepen the findings from this report it is recommended to undertake further analysis using techniques like PESTEL and/or Porter's Five Forces for which this report does not provide the scope.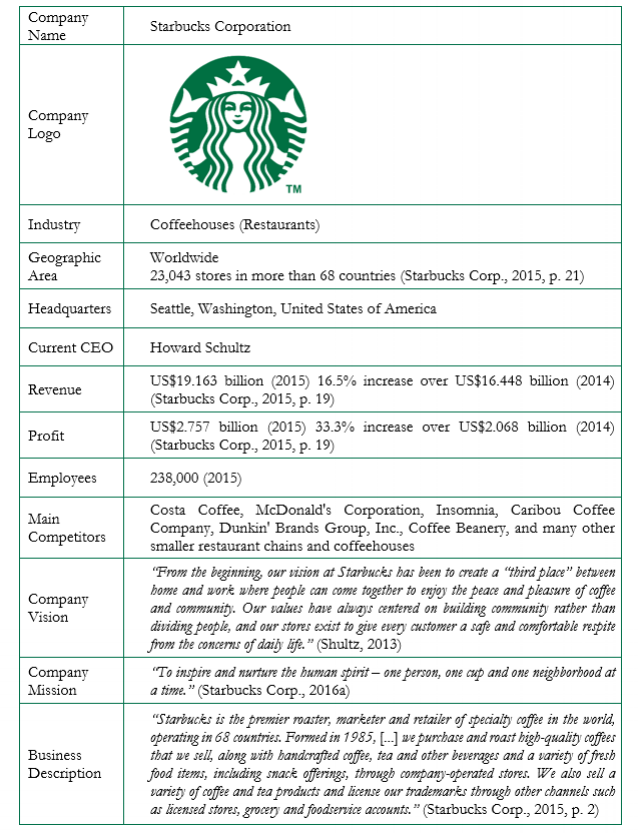 Starbucks is the world's largest coffeehouse business with a very interesting company history. Originally founded by Jerry Baldwin, Zev Siegl and Gordon Bowker in 1971 in Seattle it was taken over by Howard Shultz in 1988 for $3.8 million.
After graduating Schultz started working for Xerox as a sales representative. In 1979 he became a general manager for the Swedish drip coffee maker manufacturer, Hammarplast, where he became responsible for their U.S. operations with a staff of twenty. In 1981, on a visit to one of Hammarplast's clients, a small coffee-bean shop called Starbucks Coffee Company in Seattle, he got impressed with the company's knowledge of coffee and expressed his interest in working with them and a year later, he joined Starbucks as the Director of Marketing. On business trips to Italy Schultz noticed that coffee bars existed practically everywhere and that these not only served excellent espresso, they also served as meeting places.
On his return, he persuaded the Starbuck's owners to offer traditional espresso beverages in addition to the whole bean coffee, leaf teas and spices they had long offered, however, after a successful pilot, the owners refused to roll it out company-wide, saying they didn't want to get into the restaurant business. Frustrated, Schultz decided to leave Starbucks in 1985 and by 1986 he opened his own coffee store 'Il Giornale'. Two years later, the original Starbucks management decided to focus on 'Peet's Coffee & Tea' and sold its Starbucks retail unit to Schultz who renamed 'Il Giornale' with the Starbucks name, and aggressively expanded its reach across the United States. Schultz's keen insight in real estate and his hard-line focus on growth drove him to expand the company rapidly. Schultz never believed in franchising, and made a point of having Starbucks retain ownership of every domestic outlet.
Today many Americans of the age above 50, being asked who invented coffee, may answer Howard Schultz, and many may refer to Starbucks as the best coffee makers.
In the years from 1988, when Howard Shultz took over Starbucks, until 2007 the company was growing continuously and opened branches all over the world but in 2007 sales rapidly declined and by 2008, Wall Street had predicted Starbucks doomed. This was, when Starbucks competitors came into play and massively gained market shares.
To better understand the organization's capabilities, its customers, and its business environment a situational analysis looking at micro- and macro-environmental factors that affect the firm is helpful. The limited scope of this report does not allow an extensive analysis using a combination of common tools like PESTEL, 5C analysis and Porter's Five Forces and therefore shall be limited to a SWOT analysis.
To establish where Starbucks stands at present, this SWOT can help. Unexpected strengths may be discovered but also weaknesses, opportunities and threats can be identified enabling Starbucks to come back stronger from possible failures and to operate even more profitable so to survive/prevent future crisis.
The main part of this report outlines Starbucks' strengths, weaknesses, opportunities and threats while emphasising their capabilities within human resources followed by a conclusion based on findings and an outlook challenges Starbucks may face in future.
A SWOT provides for an analysis of a company's Strengths, Weaknesses, Opportunities and Threats so to act upon them. It is often used to identify obstacles a company faces, opportunities they have and to improve the  organisation's strengths.
Starbucks Coffee Company, in a very unique way, set out to build a different business model, one based on core values that were specifically designed to achieve the fragile balance between profitability and a social conscience. It's important to know that the foundation to the company's success is its unique way in doing business which is very much linked to Howard Shultz's idea of being unique.
Howard Schultz, at the age of 7, literally witnessed the fracturing of the American Dream when his father, a blue-collar worker, broke his ankle and got dismissed from work without any compensation and health insurance (Shultz & Jones Yang, 1997, p. 3) After taking over Starbucks, Howard Schultz came to term with this experience, building a company that his father never got the chance to work for. Starbucks became the first company in America to provide comprehensive health insurance to every single employee.
1.1. Human Resource Management
One of Starbucks' major strengths is and has always been their human capital. Starbucks is widely known for outstanding HR strategy and well trained/educated employees. All Starbucks employees are provided with outstanding benefits.
1.1.1. Starbucks' HR Philosophy
Starbucks sees its employees as a key part of its view of itself as a business serving the community. Their employees are vital for its growth, helping the business to thrive. To work at Starbucks is much like working with friends, they call their employees 'partners' (Starbucks Corp., 2016b). The company understands, appreciates, respects, and includes different kinds of people. It is a company that also embraces diversity. Starbucks provides all employees and their partners, regardless of sexual orientation, comprehensive health benefits including medical, dental, and vision care as well as tuition reimbursement, stock options, paid vacation, the 401(k) retirement plan and even elderly care programs for employee's parents.
Starbucks practises open communication. It keeps their 'partners' frequently informed, its senior leaders regularly hold 'Open Forum' events to answer employee questions and to mitigate issues or concerns. Starbucks believes that it is important to hire people not just for their ability to work in a cafe and to satisfy customer, but also for their aptitude for social consciousness. Its mission is to inspire and nurture the human spirit "one person, one cup, and one neighbourhood at a time" (Starbucks Corp., 2016a). The company is well-known for its ethical sourcing of coffee from farmers all over the globe and environmental leadership – since 2015 all cups used at Starbucks are reusable or recyclable. It is also renowned for its community involvement through volunteer work in neighbourhoods of stores.
1.1.1. Starbucks' HR Policies and Programmes
Starbucks continues to offer a variety of programs to equip employees with sufficient knowledge of company values and how to foster them amongst customers. 'First Impressions' Starbucks' initial training gives baristas an total company insight, employees are made aware of the company's history and learn how to perform coffee preparation and use a cash register. In addition, skills are trained how to interact optimally with customers creating an environment Starbucks is promoting. Starbucks developed HR practices to the extent that employees have better relationships with their managers and feel connected to the organization.
Starbuck's has gained admiration and recognition by being a pioneer in offering the same benefits to part-timers that are offered to full-time employees. In addition, benefits are offered such as income protection, saving plans, partner discounts, and free drinks on a regular basis. Another unique benefit of Starbucks is their 'Adoption Assistance Program', which reimburses employees a certain amount of expenses incurred during a child adoption process. Noe et al. (2010) stated that such benefits serve to increase employee motivation, recognition, and retention; they also assist in decreasing employee turnover.
Starbucks fundamentally believes its baristas are the key feature to the Starbucks experience and customer satisfaction. For example, to make sure that customers were delighted and served coffee to high-quality standards, Starbucks in 2008 closed most of its stores for a full day training event known as 'Perfect the Art of Espresso'. Staff discussions about how the training would be of use to customers occurred at each store (Noe, et al., 2010). This highlights the degree to which the company values the training of its baristas and views the importance of their role in the Starbucks experience.
Starbucks' 'College Achievement Plan' (Starbucks Corp., 2016c) offers all part- and full-time benefits eligible U.S. partners (employees) in a first of its kind collaboration with Arizona State University a full tuition coverage for every year of college to earn a bachelor's degree via distance learning with a 24/7 support on hand.
Starbucks recognizes their people as its main resource. Training efforts, as noted above, comprise its balanced scorecard which involves four perspectives. The learning and growth one, incorporates employee training and cultural attitudes of the company. Kaplan and Norton (Kaplan & Norton, 1996) emphasized that learning is more than training; mentors and tutors should also be within the organization as well as a streamlined communication process, utilizing tools that allow better interaction among employees, as Starbucks does with 'Open Forum'.
Starbucks also values the customer perspective, which focuses on importance of customers and their satisfaction. If customers are not satisfied, they will go somewhere else. In measuring customer satisfaction, it is important to examine the kinds of processes that feed into providing a product or service. (Balanced Scorecard Institute, 2016).
Starbucks' employee turnover is considerably lower than those of competitors like Dunkin' Donuts or Peet's Coffee (Mooney, 2015). Their education initiative accomplishes, besides hope for a better future, mainly one thing - by offering educational reimbursement, they give workers a reason to stay employed while in school. As a typical undergraduate degree takes about 4 years to complete the market typical turnover rate of roughly 25% almost disappears.
Starbucks keep their partners, their coffee and their customers at their core (Starbucks Corp., 2016a), they live their
values by 'Creating a culture of warmth and belonging', 'Acting with courage, challenging the status quo and finding
new ways to grow the company and each other', 'Being present, connecting with transparency, dignity and respect' while delivering the very best in all they do, holding themselves accountable for results.
At Starbucks they understand that innovation is less about technology but more about giving consumers novel and valued experiences. It is a place, where innovation is always brewing.
1.4. Strong Market Position and Global Brand Recognition
Starbucks, worth $70.9 billions, has operations in more than 60 countries and is ranked at #45 of the world's most recognized and valued coffeehouse brands worldwide. (Forbes, 2016).
1.5. High Quality Products
Starbucks takes great pride in the quality of their products. Although they recently repositioned their mission statement "To inspire and nurture the human spirit - One person, One cup, and One Neighborhood at a time" (Starbucks Corp., 2016a) "[...] to establish Starbucks as the premier purveyor of the finest coffee in the world while maintaining our uncompromising principles while we grow." (Starbucks Corp., 2003)
1.6. Starbucks' Product Mix
Starbucks continues to introduce new products to steadily capture the attention of all age groups. Their product line includes: coffee, tea, frappuccino beverages, smoothies, pastries, sandwiches and snacks.
Besides traditional advertisement Starbucks was amongst the first using social media (Facebook, Twitter and YouTube) as a way to advertise (Perepu, 2013), attracting applicants and customers alike. They were the first organisation to get 10 million likes on Facebook (Reuters, 2010) a number that increased to more than 36 million today.
For 15 consecutive years as a public company, everything Starbucks touched literally turned to gold. Every new product they launched, every new shop they opened, every new country they entered, everything they did was becoming successful. Starbucks' success was covering up the mistakes that were made and the financial crisis in 2007 added on to that. Howard Shultz recognised that already early in 2007 (s. appendix 2), but that appeared to be
almost too late.
Starbuck's most important strength, their strong HR practices on employee benefits and well-being, may be considered also a weakness. The investment in employees' education is costly and still employees leave the company after they graduate. Joan Mooney quotes Alex Cole from Monitor 360, a US Consultant that reviewed Starbuck's employee satisfaction: "Middle management doesn't seem good about articulating the importance of employees. They need to be trained." (Cole cited in Mooney, 2015)
2.2. Product Expensiveness
Starbucks always emphasizes their products are of highest quality and the 'Starbucks Experience' is something unforgettable. At times of economic sluggishness, prices at Starbucks may become unattractive leading to consumers shifting to Dunkin' Donuts and McCafé at the lower price segment. Starbucks' premium prices might prevent any expansion into developing countries losing the competition to Dunkin' and McCafé.
2.3. Clash of the Coffee Cultures
Starbucks' (coffee) culture is not widely accepted in South Europe or Asia. Therefore the planned expansion to Milan, Italy, in 2017 seems very risky and previously discussed HR practices may not work there.
2.4. U.S. Market Dependance
A big part of Starbucks' annual revenue is generated from the US market. Considering the possibility of cannibalization, Starbucks must act really careful not to harm its revenue.
3.1. Expansion into Emerging Markets
The self-cannibalization of the US market indicates, how important it is to expand internationally. Aligning HR policies with the company's expansion strategy should create opportunities to utilize the great potential for growth into emerging markets. Starbucks already started penetrating the Asian market. Currently they are present in 16 markets in the Asia/Pacific region.
3.2. Price-Sensitive Customers
Starbucks customers are not very price sensitive. Since the global recession is over this gives Starbucks opportunities to expand again.
3.3. Expansion in Asia, the Middle-East and Africa
Starbucks already operates more than 4000 stores in the Asia/Pacific region. It's essential to use this popularity and expand in the Middle East and Africa, where the company currently has minimal presence with about 500 stores.
3.4. Expanding Product Mix and Offerings
Starbucks started to expand its mix by adding Tea and fresh juice products. In August 2014 they opened their first store in Williamsburg, Brooklyn, one of 30 stores that also serves beer and wine.
3.5. Technological Advances
Starbucks has leveraged the use of mobile applications. 'Starbucks App' provides applications easily to manage. Today, 20% of US transactions are being made through mobile apps (Kell, 2015) and more than 5 million transactions per week are processed through Starbucks' mobile payment app. Gradually the 'Starbucks App' will be rolled out world-wide. Also new is a delivery system called 'Mobile Pour' that puts baristas on scooters. Customers order through the mobile app and keep walking. All above requires knowledgeable, well-trained and fit employees which the company stands for through best HR practices.
3.6. New Way of Distribution
Starbucks introduced a new delivery system called "Mobile Pour", a great opportunity to improve their distribution system and increase revenue.
Starbuck's values and HR practises are not hard to copy these times. The company stands and falls with those. In our world of brutal competition Starbucks faces the risk to become one of many.
4.1. Increased Competition
This is by far the biggest threat for Starbucks.Competitors like Costa, Dunkin' Donuts and McCafé are minimising Starbucks' market share.
4.2. The Price of Coffee Beans
Price increases for quality coffee beans might of course have effects on both the profit margins and on product prices. In the latter case the already overpriced Starbucks coffee will get even pricier.
4.3. Economy of the Developed Country
Another crisis like 2008 may severely damage Starbucks revenue. Moreover, the company could lose a significant amount of customers because people might shift to cheaper brands.
4.4. Change of Lifestyle and Preferences
The shift of customers towards healthier products and the risk of coffee culture vanishing, represents a future threat for Starbucks.
Big brands like Costa, McCafé and Dunkin' Donuts imitate Starbucks brand strategy. Introducing high quality coffee at lower prices will definitely have negative impacts on Starbucks' market share.
Although there are many boulders and conflicts, Starbucks has ways to deal with it because of their vision and values, their HR philosophy and practices as well as the healthy psychological contract they established and maintained with various stakeholders even during the economic downturn.
HR needs to continue in conveying and demonstrating this philosophy by also adapting to and internalizing different cultures globally.To motivate employees to work hard for the company, they are offered flexible work schedules, health insurance, share saver options, training and education opportunities, tuition reimbursement, in short, they are treated as the company's most valuable asset. The positive work climate brings out happy customers who receive the best possible coffee and service.
We built the Starbucks brand first with our people, not with consumers […] we believed the best way to meet and exceed the expectations of our customers was to hire and train great people, we invested in employees […] (Shultz & Jones Yang, 1997).
Starbucks is a business created out of talented employees, reliable partnership connections, community involvement, social responsibility and superior services and products where staff turnover is comparably low and customers are loyal. HR needs to preserve this standard and raise the bar to prepare for the future.
Another important success factor for Starbucks is their innovational ability they achieved by HR investment and good practices around L&D that in return feeds directly into customer's experience – happy staff increases customer happiness. Howard Schultz's dictum that customer satisfaction is directly proportional to employee's satisfaction appears to be true.
Starbucks proper Human Resource Planning aims to attract, develop and retain talented employees. New hires undergo a thorough recruitment/selection process and a sophisticated career-development program. Once capable leaders are identified, the company will help them to grow, e.g. through Starbucks' 'New Partner Orientation and Immersion' . Starbucks Human Resource Planning maximises the utilization of human capital, and manpower and anticipates problems or training needs.
To develop and work further on every aspect of the psychological contract seems a paths well worth to pursue by Starbucks. As part of strategic HRM to work further on reputation, employee well-being and customer loyalty, should pay off in the long run.
Balanced Scorecard Institute, 2016. Balanced Scorecard Basics. [Online]
Available at: http://balancedscorecard.org/Resources/About-the-Balanced-Scorecard  [Accessed 12 05 2016].
Forbes, 2016. The World's Most Valuable Brands. [Online]
Available at: http://www.forbes.com/companies/starbucks/ [Accessed 04 05 2016].
Ignatius, A., 2010. The HBR Interview: "We Had to Own the Mistakes". Harvard Business Review, July-August 2010.
Kaplan, R. S. & Norton, D. P., 1996. Using the Balanced Scorecard as a Strategic Management System. Harvard Business Review, January-February 1996, pp. 75-85.
Kell, J., 2015. Starbucks wants your phone as much as it wants to sell you coffee. [Online]
Available at: http://fortune.com/2015/07/24/starbucks-mobile-investments/ [Accessed 13 05 2016].
Mooney, J., 2015. Is Starbucks Really a Great Place to Work?. [Online]
Available at: https://www.shrm.org/hrdisciplines/employeerelations/articles/pages/starbucks-work-environment.aspx
[Accessed 27 05 2016].
Noe, R., Hollenbeck, J., Gerhart, B. & Wright, P., 2010. Human Resource Management. 7th ed. New York (NY): McGraw-Hill.
Perepu, I., 2013. Starbucks: Brewing Customer Experience Through Social Media. Hyderabad: IBS Center for Management Research.
Quelch, J., 2008. How Starbucks' Growth Destroyed Brand Value. Harvard Business Review, July 2008.
Reuters, 2010. What does 10 million Facebook fans mean?. [Online]
Available at: http://blogs.reuters.com/small-business/2010/07/27/what-does-10-million-facebook-fans-mean/
[Accessed 03 05 2016].
Shultz, H., 2007. Howard Schultz's Starbucks memo. [Online]
Available at: http://www.ft.com/cms/s/0/dc5099ac-c391-11db-9047-000b5df10621.html#axzz49TgTeJ6n [Accessed 23 05 2016].
Shultz, H., 2013. An Open Letter from Howard Schultz, CEO of Starbucks Coffee Company. [Online]
Available at: http://www.starbucks.com/blog/an-open-letter-from-howard-schultz/1268 [Accessed 29 04 2016].
Shultz, H. & Jones Yang, D., 1997. How Starbucks Built a Company One Cup at a Time. New York (NY): Hyperion.
Starbucks Corp., 2003. Starbucks Coffee Company Russia - Mission Statement. [Online]
Available at: http://starbuckscoffee.ru/EN_US/_About_Starbucks/Mission_Statement.htm [Accessed 11 05 2016].
Starbucks Corp., 2015. Fiscal 2015 Annual Report, Seattle: Starbucks Corporation.
Starbucks Corp., 2016a. About Us - Our Mission. [Online]
Available at: http://www.starbucks.com/about-us/company-information/mission-statement [Accessed 29 04 2016].
Starbucks Corp., 2016b. Working at Starbucks. [Online]
Available at: http://www.starbucks.com/careers/working-at-starbucks [Accessed 12 05 2016].
Starbucks Corp., 2016c. Starbucks College Achievement Plan. [Online]
Available at: http://www.starbucks.com/responsibility/community/college-plan [Accessed 11 05 2016].